San Diego Waterfall Company and Waterfall contractor in San Diego
Custom Waterfalls are a great way to add charm to any garden, home, lobby or office. Waterfalls provide soothing sounds and sights that help you de-stress and relax in today's busy world.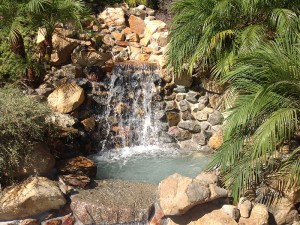 Reyes Waterfalls Waterfall Company specializes in installing and designing amazingly beautiful and natural looking Waterfall Designs for your home. We are the leading Waterfall Company in California, serving the areas in San Diego and other cities throughout California.
Waterfall landscapes are a beautiful addition to any home. Your home in San Diego, Rancho Penasquitos, Jamul, Cardiff, Carlsbad, Encinitas, and La Mesa, is just waiting for a unique accent to set it apart from other homes.
We offer Waterfalls, pond plant, Koi Ponds, Ponds, flagstone, Streams, Fountains, Landscape Lighting, and Water Features, Design, Installation, Repair, and Maintenance. We also offer maintenance and repair services for your Waterfall, Water Features, Fountain, and more! The Waterfall Company is committed to creating and designing the best, natural looking Waterfalls available.
Reyes Waterfalls has evolved into a full service landscape waterfall company with an unparalleled dedication to customer satisfaction. Many people in San Diego and other cities throughout California (Cardiff, Carlsbad, Encinitas, La Mesa, Rancho Penasquitos, and Jamul), have chosen us as their backyard waterfall contractor. Our clients trust us to install backyard waterfalls to create an enjoyable and welcoming atmosphere, and all of them have been very satisfied with the results.
For waterfall installation and design, call today to enjoy all of the nature, beauty, and tranquility our water features have to offer.
Have your project done right the first time! Contact Reyes Waterfalls Company today at (619) 631.2808.