Rico Rock waterfalls installation in California
Close your eyes and think about what your dream pool looks like. Do you see something that blends the sleek design of a swimming pool with the serenity of nature?
Rico Rock is the better and faster way to build a quality artificial rock waterfall. Incorporating a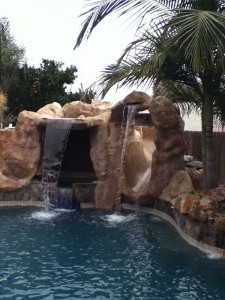 rock waterfall into your custom pool in backyard is the way to be closer to nature. Rico Rock waterfalls installation makes a gorgeous addition to any pool and provides a peaceful focus to any setting. Rico Rock waterfalls can be installed and designed on swimming pool decks, ponds and used for pondless water features at your home.
We are happy to offer our customers artificial waterfalls by Rico Rock installation. Kids and adults of all ages will enjoy a Rico Rock waterfall expertly installed by Reyes Waterfalls Company. Our Rico Rock Waterfall Installation designs mimic nature—sheets, cascades, ledgers, and grotto waterfalls.
Rico Rock Installation in La Mesa, Carlsbad,  Encinitas, Cardiff, San Diego, Rancho Penasquitos, and Jamul
Reyes Waterfalls Company can suggest a choice of custom options to beautify your pool deck ,yard or spa area—creating a peaceful, natural setting wherever you like. Our Rico Rock installers with rockmaking experience are available throughout California, including Cardiff, Carlsbad, Encinitas, La Mesa, San Diego, Rancho Penasquitos, and Jamul.
Have your project done right the first time! Contact Reyes Waterfalls Company today at (619) 631.2808.